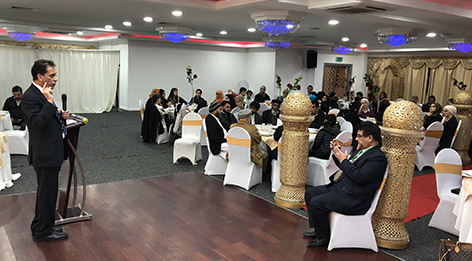 A fundraising charity dinner was held in Birmingham on the 21st of February 2018 at Crystal Plaza Conference and Banqueting Suites. This event was organised by the ARM Trust Birmingham Team headed by Malik Iftikhar Ahmed.
Chaudhry Majid Nadeem Ahmed started the event with recitation from Quran. Malik Iftikhar Ahmed welcomed the audience and thanked the Birmingham team members Khadija, Zubair, Iffat, Ghazala and Iftikhar for helping him organise this wonderful and informative gathering. He also appreciated the support and donations by our donors which has turned the dream of hospital into a reality. Ex-councillor from Birmingham, Shafique Shah said a few words in support of hospital project and shared with audience and he has been supporting this project from the very start due to the commitment and honesty of Dr Atiq and the other members of ARM Trust Committee.
Dr Atiq-ur Rehman updated the audience on the progress made by the Bewal International Hospital. He commented on how the hospital is providing great quality healthcare to the local population. He said that the maternity department is functioning really well where over 700 caesarean section procedures have been performed in the hospital saving valuable lives and many more babies delivered through the normal child birth. He also informed the audience that the ARM Trust has been organising a Free Operation Hernia camp at the hospital on annual basis that started in March 2014 and 293 hernia procedures have been carried out over last 4 years. Dr Atiq also announced the start of Dialysis services at the hospital using 10 dialysis machines which have been recently exported from the UK.
Chaudhry Mohammed Saeed in his speech explained the benefits of charity donations and giving money in Allah's way. The audience appreciated the efforts of ARM Trust and assured their full support to this project as always. People made generous donations and even the children put in their part.
Raffles and the colouring competition organised by the ARM Birmingham team were the main attraction for the guests especially children who seemed well happy with the prizes they won.
Dr Atiq-ur Rehman thanked the ARM Trust Central Committee members Iftikhar Ali, Chaudhry Majid Nadeem Ahmed, Chaudhry Mohammed Saeed, Malik Iftikhar Ahmed, Dr Khaleeq-ur Rehman and Faisal Iqbal for their ongoing efforts and support. He also appreciated the ARM Trust Birmingham team members Khadija, Zubair, Iffat, Ghazala and Iftikhar for organising another great event.
ARM Trust would like to thank all our guests and well wishers who attended this event. We really appreciate your kind and generous donations which makes the funding of the hospital possible. Without your help the hospital cannot continue its services.
We are grateful to Crystal Plaza and Rawal Village for sponsoring this event.